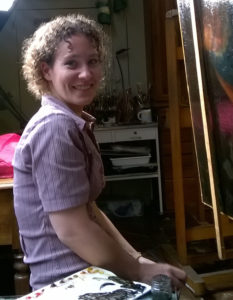 For my illustrated CV please click here.
To download my CV in pdf format please click here.
Find me on Linkedin.
My personal development had three major phases: my university studies completed at the Hungarian University of Fine Arts in Budapest (2000–2005), my professional working experience at the Florentine Fine Art Conservation Laboratory of Stefano Scarpelli (2009–2016) and my working experience in the UK (2016-present). 
The five year course at University of Fine Arts in Budapest was composed of both practical and theoretical training. The first three years were dedicated to perfecting the fundamental rules of visuality and the basilar drawing and painting techniques through classical studio studies (still lives, portraits and nudes). The training also involved producing copies of works of art by using original techniques (tempera, oil, gilded surfaces, affresco, a secco, sgraffitto), and detaching frescoes from walls. The last two years were exclusively dedicated to develop our painting restoration skills of paintings on canvas and wood panel, and the use of instrumental, photographic, and microscope florentineanalysis techniques for the assessment and documentation of conservation interventions.
After receiving my MSc degree in "Painting Restoration" I began my Ph.D. studies at the same University. My dissertation focuses on the archival and restoration research of the the Sienese book covers -Biccherna panels– reserved at the Budapest Museum of Fine Arts. The research undertak es a complete survey of the five medieval wood panels. Thanks to restoration imaging and microscope analysis methods (UV, Raking, Infrared Light and X-radiography, cross-section and pigments analysis), it is possible to analyse the conditions and to list the components and characteristics of these works of art down to the smallest detail. In the course of archival and restoration research I have also discovered new technical and historical details of them which allowed me to prepare 1:1 reconstructions of two Biccherna panels. My dissertation defense is scheduled for 2018.
Since 2009 I have lived in Florence and worked at the laboratory of Stefano Scarpelli, who regularly collaborates with many outstanding Florentine museums, such as the Uffizi Gallery, and is the conservator of important art galleries and private collectors of old masters worldwide. Under Scarpelli's guidance I have become an expert of the "Florentine School" retouching technique. This retouching technique was specifically developed for Italian medieval and Renaissance paintings. It is based, first, on a particularly accurate preparation of the underpaint layer, the colours of which are slightly lighter and cooler than the surrounding original ones, and, second, the application of a light and transparent final retouching over an isolating varnish layer. The basic philosophy of this retouching technique is to intervene as little as possible, with the maximum possible results and with extreme precision. At the laboratory of Stefano Scarpelli we prepare our own glazing palette, using high quality dry pigments which we grind until we get the right quality of the pigment size, and then we mix them pure Canada balsam.
Since 2016 I establsihed in the UK, where I continued my career at the Katherine Ara Paintings Conservation & Restoration Ltd., London. Here I contributed to work on different projects retouching in losses to the paint. This experience of work to high professional standards was very useful in highlighting the differences between Florentine and English retouching techniques, there being in the latter approach a stronger emphasis on accurately recreating the original paint structure and colour matching in retouching losses.
In my early art studies at the School of Fine Arts in Budapest, Hungary, side-by-side with the more traditional artistic disciplines, such as drawing, painting, sculpture, etc. In particular, I chose the "Bookbinding and Book Design" course, where I received a thorough and comprehensive training in bookbinding, paper and book restoration along with various methods for decorating paper (e.g., marbleizing and coloured starch painting) and different graphics techniques to be able to create our own illustrations or artist's books. My love for paper and books derives from this period and throughout the years has kept pushing me to create illustrated pop-up books and scenes, paper theatres, cards, and other paper based artworks. Some of these creations are displayed in my portfolio die-cut and  pop-up sections.